"SPRINTER POWER Series Super Wide Width Rolling Machine
POWER PRO5000
As the first machine developed and implemented in the domestic industry
Has been popular with high-end product printing customers
Larger printing width, faster production efficiency, higher print quality
More application options, wider material adaptability
More competitive ink prices and unimaginable stability
SPRINTER fully demonstrates the pioneering spirit of high-tech enterprises
Continuous innovation and exploration
Let customers unleash their business competitiveness in seizing digital opportunities

Advanced magnetic levitation motor plus high-precision metal grating motion system, the inkjet head runs quickly and accurately. Meanwhile, it is equipped with human body sensing system to improve the safety performance of the machine. The configuration of up to 6 rows and 24 printheads, with multiple rolls/multiple sheets of material printed simultaneously, makes this machine the king of speed and the pioneer of output.

The ink used in this machine is a foreign well-known brand of eco-friendly UV ink, which meets the national standard of low VOC. ink color is bright, good solidity, widely used in printing acrylic, foam, wood, meta, glass and many other materials. In addition, according to the material stretching differences, we also provide a certain stretching neutral ink, printing such as leather and other products.

With an ultra-spacious large head and a large base plate design with up to six rows of printheads, combined with the special feature of two colors on one end of the Ricoh printhead, the POWER PRO5000 offers a wide range of possible configurations to meet different printing needs.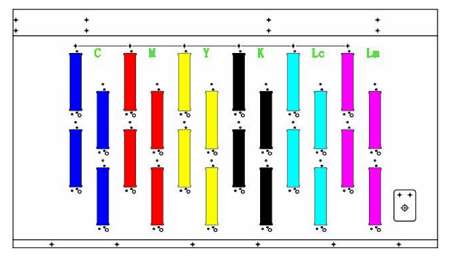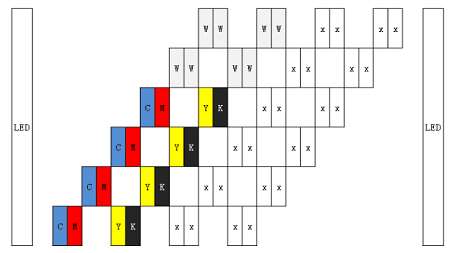 The human body sensing system can sense the approach of the human body during the high-speed work of the machine and automatically stop when it enters the range to prevent people from being inadvertently hit by the fast-moving front end and protect the safety of personnel.

The loading contains expansion rods and pneumatic compression rod devices at the front and rear, which can effectively expand the web with stretching characteristics, so there is no need to worry about material wrinkling or warping during the printing process. This ensures continuous production, reduces unexpected failures, and eliminates material waste and rework.

*Integrated design
*High precision processing
*Advanced cloth winding and feeding system
*Industrial grade printheads, optional Konica or Ricoh Gen5&Gen6
*Integrated inkjet control system
The high technology support makes Power Pro5000
whether outdoor super-large advertising spray painting, or indoor large writing
real
It can easily handle all types of light box advertising, signage, wall paper, etc.
Not only make brand owners, design agencies and advertising enterprises more creative
It also brings broader and more flexible business expansion for manufacturers